Program
The most beautiful rafting descents in Savoie
Take advantage of our centers of Landry and Salin-les-Thermes to sail on the Isère and the Doron de Bozel, two mythical rivers of Savoie.
On these 2 rivers, you will find more trails and descents. From 6 years, an exclusive in Savoie.
All our descents are supervised by professionals of the river, so let yourself be guided and enjoy a moment 100% conviviality.
Your instructor will give you all the necessary equipment as soon as you arrive at the center. We provide you: trousers, jacket, neoprene slippers, vest, helmet and paddle!
⚠️ Minimum ages must be respected.
Otherwise, your registration may lapse without you being able to claim any refund or compensation.
Our Trip
| Trip on the Isère 🌊 | Minimim Age / Level | Activity / Total time | Price / pers |
| --- | --- | --- | --- |
| BABY RAFT | 6 years old / 🟢 | 35 min / 2:15 | 44 € |
| KIDS DISCOVER ISÈRE | 8 years old / 🟢 | 1:15 / 2:45 | 54 € |
| THE ISÈRE GORGES | 10 years old / 🟢 | 1:20 / 2:45 | 64 € |
| SPRINT DESCENT | 12 years old / 🔵 | 45 min / 2:00 | 44 € |
| THE CLASSIC TRIP | 12 years old / 🔵 | 1:30 / 2:45 | 64 € |
| THE BIG DESCENT ⭐️best | 12 years old / 🔵 | 2:15 / 3:30 | 74 € |
| MINI-RAFT ISÈRE | 15 years old / 🔴 | 2:15 / 3:30 | 84 € |
| | | | |
| Trip on the Doron de Bozel 🌊 | Minimim Age / Level | Activity / Total time | Price / pers |
| KIDS DISCOVER DORON | 8 years old / 🟢 | 35 min / 1h45 | 44 € |
| 1 DORON DESCENT | 15 years old / 🔴 | 45 min / 2:00 | 54 € |
| THE CLASSIC ONE DORON ⭐️best | 15 years old / 🔴 | 1:15 / 2:30 | 64 € |
| 2 DESCENTS SPORTIVES DORON | 15 years old / ⚫️ | 2:00 / 3:00 | 74 € |
Meeting point
Rafting base Doron de Bozel
Alongside of the road on the left, after the supermarket
car
Rafting base Doron de Bozel
Alongside of the road on the left, after the supermarket
car
Rafting base Doron de Bozel
Alongside of the road on the left, after the supermarket
car
Rafting base Doron de Bozel
Alongside of the road on the left, after the supermarket
car
Material provided
Neoprene suit, jacket and slippers + helmet & lifejacket

Adeline M
We did the great rafting descent on the Isère with Alexis, our guide. Super nice and very competent! He answered all our questions and made us discover the surroundings of Landry.
I recommend Evo2, they are super pro!
Aglaé
Superb rafting descent. We had an extraordinary family time! Great sensations!
A GREAT EXPERIENCE!!
Ps: well favored by a very good guide = Vincent is the best guide in the world 😉
Alexandra
Thanks Rico! We really laughed!
Rico also took our request into account when he was told that one of our teammates was afraid of the water.
Very pro! Very fun!
Aude
It is with some reluctance (not to say a real fear ...) that I embarked with my two daughters 19 and 12 years old in this descent on the Isère in rafting yesterday with Evolution2. Alex who guided us and kindly rescued me after an unexpected fall, manages his passengers wonderfully, with humor and kindness, the landscape is beautiful and despite the cold water and the cold outside temperature too, we had a great time, rich in emotions, sharing, laughter and discovery.
Great welcome, very good support, bravo!
Aurore
Great time spent between father and son. for a first approach to rafting for my 8 year old son, was genial
His only regret is that it happened so quickly. thank you
Benj
Great place for activities, we did a great HVS.... picnic tables shaded with or without catering service, top staff with superb atmosphere of monitors, activities and quality equipment. Their cottages are great and not far from the place of activities. The whole group loved this place and highly recommend it.
Cedric
A team of shock listens to your desires to live beautiful adventures
Rafting at the top with a beautiful experience, mountain bike outing for the discovery of beautiful landscapes
An extra paragliding service and what to say about hydrospeed...
All of course associated with a magical welcome and throat of smiles
Cetelmed
Family rafting at the top! First great experience for the whole family. Super general organization and super ML guide that we highly recommend!!! We will come back to try other activities with great pleasure.
Christelle
Rafting discovery simply genial. We live in the United States, and have already rafted several times with our 9 and 10 kids and Evolution2 is far more awesome. We loved it. It's not boring for a second, Romane was great, the stops to jump in the water super nice, the fabulous place.
Cindaille
We had a great time for a 2h30 descent in rafting with ML, guide at the top that makes the descent very playful with good sensations! We recommend ML!!!! Thanks to him!!!
Coutard G
Superb rafting experience with a beautiful landscape and super nice water with quiet parts and some nice fast with passage in gorges. We had taken the longest circuit of about 15kms.
Special kudos to our guide ML, a super nice guy and filled with good humor.
Cristelle V
Made with our two 9-year-old daughters, the whole family to adore the big and small.
A great site super guide Mario,
Thanks Evo2 and Mario great memories for us
Daniel
Fabulous experience made with my 3 sons, Thanks to Hugo, his pedagogy, his good humor, and his professionalism.
It was great, I advise anyone who wants adrenaline with safety.
Daniel, Lino, Garris and Arsène
David G
Family rafting (couple with a 16 years old teenager and a 12 years old girl) at the top, very well supervised and perfectly secure.
Pure pleasure in a river that provides real sensations.
Super structure (shower, changing rooms, toilet, restaurant) with smiling and pleasant staff.
A special mention for Vincent and Victor who are two great guides, friendly, funny and who know the place and their job perfectly.
If you want to have a good time with an exceptional activity, I highly recommend Evolution 2.
Eric
Good experience in Rafing on the Doron de Bozel and in Canyon (red water)
Competent, caring and fun companions.
A well-run organization of Tel's command taking until the end of the activity.
Evelyne
e took a rafting descent of 2:15/30 on the Isère. Mega awesome and super well organized! The base in Landry is very nice, clean, equipped with showers and cabins to change. Also possibility to eat. We received complete equipment from head to toe, the safety instructions were very clear and our Evolution2 Hervé was at the top. At no time did we feel insecure. Yet we were able to experience great sensations including the possibility for those who wish to jump more than 5m high in the Isere (no obligation). A unique experience that we will repeat during our next stay in Les Arcs.
François
We have just made the full descent of the Isère in rafting. It was an excellent afternoon, 2 good hours of descent. The children loved us too. And we had a top guide, thanks to ML for making us live his passion, so British.
GarchambO
feet in the water
Very nice rafting experience with our 2 children of 10 and 14 years.
Top management… thank you Rémi
Nice atmosphere in the structure
The place is very well arranged with optimal organization.
Many activities on offer. Dining area on site.
Do and Do
Hugo
We made the full descent of Isère in rafting. The guide (Rico) was super friendly, affordable and giving very interesting explanations. I highly recommend this activity
Illy
We've been through the Doron.
Pleasant and technical.
Nature in its raw state.
A bit short.40 minutes of descent.
Jade
Rafting on the family discovery trail (with 2 children aged 10 and 14). There were 7 of us on the boat.
Very well supervised, very nice instructor (Olivier Dutt) who made us discover the pleasure of this sport and the charm of Isère.
The children (like the parents) appreciated the eddies of the torrent, and the "shocks" on the traps of the course.
No difficulty, accessible to beginners on this discovery course. The complete equipment provided by the club makes it possible not to get cold in the water (because possibility to swim on some quieter passages).
Kokiyage
an organization at the top in a beautiful place. A smiling team, with care for all. Very professional team and a perfect instructor! Thanks to the whole team!
Three-hour descent for my little girl, for whom it was the first time! she loved it!
To perfect everything, a good small restaurant, on site, where we ate well with a very pleasant service!
To redo, during our next stay!
Laurent
Very good course with some quick to negotiate well. Our guide Olivier did his job well and throughout the course we were well informed. This descent is absolutely necessary!
Lnaya
A very good family experience, we did the rafting descent of 2h30. The staff was very nice and very pleasant. We had to put on full suits (short sleeve suit + long sleeve vest + water shoes) We had lifejackets and helmets and the descent was very nice, there were quiet moments and other more sporting moments. The rapids were fun but we expected more. I recommend to give it his time as it was very fun and family
Lo B
To do absolutely! Our guide Mario is great! Experienced he put us at ease immediately and allowed us to pass the difficulties calmly and with humor! Thank you!
Marie-Claude
Very friendly team, but the rafting descent was too short, duration of the descent 1/2 hour at most.
Martin
well back in anjou, really loved the raftiing, with rico on Saturday, August 19

Dad not knowing how to swim or not at all that I did not know, stayed in the shade next to the ping pong table, and is not bored, it was a beautiful day the last of our vacation.

we will return and this time the hydrospeed , before being too old for all these sports activities.

there is a great atmosphere at home , and nice facilities , clean , well organized, your employees are really nice.
Mattmatou
BABRY RAFT
Super baby raft descent in family Thomas 6 years old, Tristan 9 years old accompanied by Hugo who put them in confidence. We recommend this center and of course Hugo thanks again to him for this excellent descent!
Musereau
Very good afternoon rafting with Theo, real sensations!
Very good atmosphere!
Redo
Nanoucamju
Rafting in family with our 2 daughters 10 and 13 years old + another family. Awesome ML accompanist, who made us do crazy stuff safely.
Super organization. Highly recommend
Nicolas R
Unforgettable rafting trip on the Doron de Bozel.
Exceptional setting.
Full of emotion.
Excellent monitor.
Nicole
Very well I recommend for small and big! And above all good very kind companion
! The water is a bit cold but its pass with the suits!
PeP
Great rafting outing with children in the Doron. Nice welcome, professional coaching. Third release with Evolution2, another great experience.
Relax235376
A superb activity not to be missed.
My boys were happier.
Explanations and support at the TOP!!!
I let them go safely.
All equipment is provided.
Thank you
Rolland
A superb and pretty rafting descent with its lot of adventures.
The water is cool, it's nice with the combi.
The very active phases alternate well with calmer moments, the time to enjoy a little of the nature that surrounds us.
Great guide, great moments: thank you Hervé.
Valentin
Great experience with Vincent in guide/mono on hydrospeed and rafting the next day 👌 A good combo playful and safe with valves every 15 seconds: we like, we recommend and we will come back 🤪
Thanks for the reviews of Snatch and FMJacket punchlines!!
Tchusss

Team Valentin, Bradé coupé & co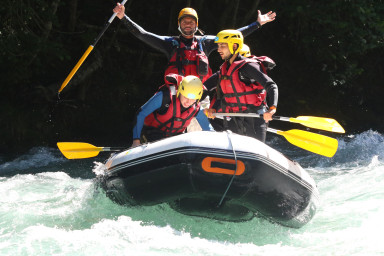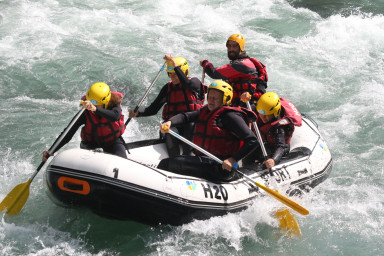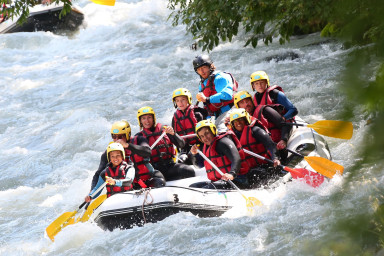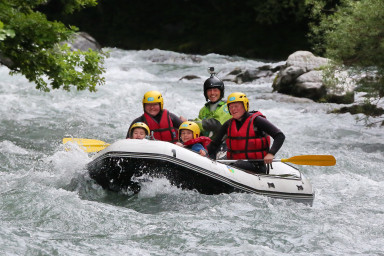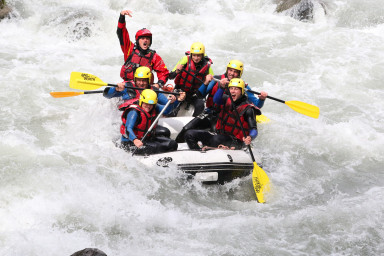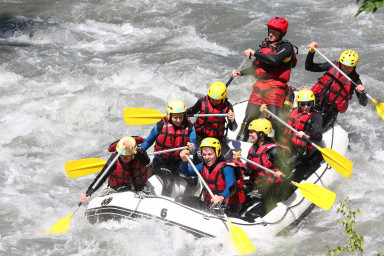 Book
Easy booking
Secure payment