Level
Beginner, Intermediate, Advanced, All levels
Effort
Easy, Moderate, High, Intense
Accessibilité
Train & navette, Voiture
Go for a half-day, discover unique nature on snowshoes!
How about discovering Haute-Savoie on snowshoes? ☃️
Take a walk off the beaten track and enjoy an exceptional panorama! Snowshoe between fir trees and snow-covered plains ❄️
Our passionate, qualified guides will share their knowledge of the mountains and all their secrets with you...Hikes are classified by level:
Level 1🟢
Low elevetion up

:greater than or equal to 200m, slightly less than the Eiffel Tower😉
Discovery walk
Suitable for families with children
SDénivelé supérieur à 500m (ou pente raide)uitable for pregnant women
Level 2🟠
Difference in altitude less than or equal to 500m

Family walk

Have a good

physical condition
Level 3🔴
Elevation gain of over 500m (or steep slope)
Previous

mountain hiking experience

Have

realy good physical

condition

Non adaptée pour les femmes enceintes
You can choose between two options:
Your guide will be able to organise your day: book a restaurant for the lunch break, the route is predefined with you the day before so that you can tell him what you want. The departure can be from your home.
A few inispirations:
🟢La boucle des commmunailles :A hike you can enjoy with the whole family! A fun time from start to finish, a walk without too much effort to enjoy a constant view of the Mont-Blanc range! A few forest passages, a snowball fight, building a snowman and you're all set...🌲☃️
🟠Le Porcherey: Hike for the day and enjoy a traditional dish in a refuge during lunch break...All along the route, you'll be able to admire the dense, snow-covered vegetation. Keep your eyes peeled, as some of the footprints will be unfamiliar... The walk takes place mainly in the forest, but the opening onto the mountain pasture at the end will allow you to admire one of the faces of the majestic Mont-Blanc! 🐾🥘
🔴From Bionnassay to Bellevue: Would you like to discover the village of Bionnassay but access the summit of Bellevue as a bonus? Take advantage of this itinerary for a sporty walk with a gradual ascent. This hike will take you to the slopes of Les Houches and Saint-Gervais. 🥾🏔️
Half-day: 9am to 12pm or 1pm to 4pm, privaye or group.
The meeting point will be arranged with you the day before, so that you can set off in comfort and according to your wishes (for the private option)The walk will be organised according to your level.
Some inispirations:
🟢Village de Bionnassay: Discover the typical village of Bionnassay, a contrast between old and new! Away from the historic center, enjoy a nature break while admiring the surrounding chalets. A 100% authentic walk! 🏠.
🔴Le truc: if you want to work up a sweat for half a day, this itinerary is for you! After a fairly steep start, a more gradual climb awaits you before discovering a beautiful alpine pasture with a breathtaking view! 🌿
Our prices
| OPTIONS | PRICE |
| --- | --- |
| Group : Half-day (9a.m -12a.m or 1p.m - 4p.m) | 40€/pers. Rental of snowshoes and poles included. |
| Private : Half-day (9a.m -12a.m or 1p.m - 4p.m) | 190€ + 10€ rental of snowshoed and poles per person |
| Private : Full day (9a.m - 4p.m) | 300 €+ 10€ rental of snowshoes and poles per person |
meeting place
To be defined with the instructor
.
Please arrive 15 minutes before the start of the activity
To be defined with the instructor
.
Please arrive 15 minutes before the start of the activity
To be defined with the instructor
.
Please arrive 15 minutes before the start of the activity

Laetitia
Extra. Pro. Dynamic
Baptiste for discovering the mountains with snowshoes as a family! Superbly adapted, easy and fun.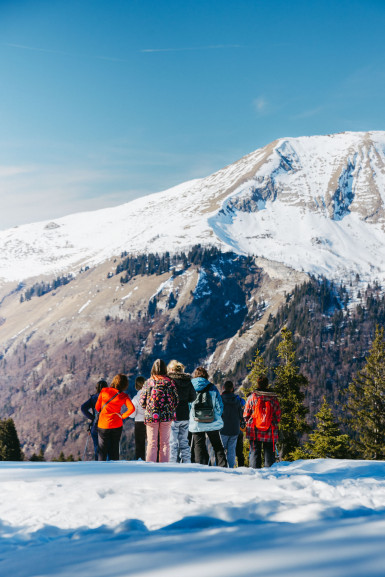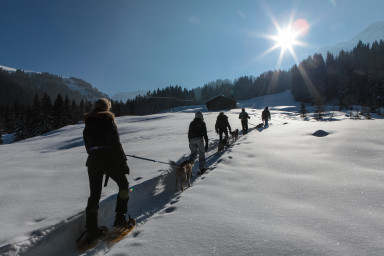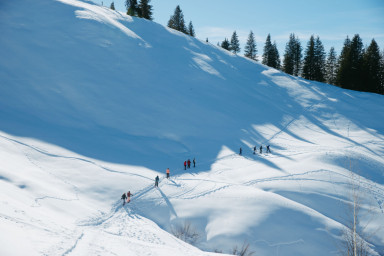 More informations
From 3 years old
The maximum group size is 8 for private option.
For group option, the departure start with 4 people min. and maximum 10people.
Book
Easy booking
Secure payment