Evolution 2 Megève ski school
No result found, try boardening your query.

Cristina Ascolani
Discovering of ski touring is amazing! Thanks to Lionel... I'm waiting for the pictures ;)
Marjorie Mondon
I rarely take the time to write reviews on Google, but the quality of the service and the kindness of the team invite me to do so!
We were welcomed by Ophélie to organize an activity, off the beaten track, during our weekend with friends. It is with a big smile that she advised us the aperi'glisse.
We went to have a drink at sunset, then by the fire, just after the slopes closed! It was a dream!
Then the instructor Nathalie (very fun) explained us how to take in hand our yooner, headlamp with the helmet, to join the bottom of the tracks. A pure moment of fun between friends in the moonlight! Thank you Ophelie, thank you Nathalie and thank you evolution 2! We will come back :)
Eric Bertrand
Amazing canyoning in Megève with Stéphane, a very good guide with the teenagers. A huge thanks for this experience.
Anne-Lise
A week of skiing supervised by Louison who took care of my child with a lot of benevolence, patience, and in complete safety. A big thank you to this professional and passionate.
David S.
Very nice delightful presentation to biathlon with my family makes this day on the site of Livraz and top monitor!

- 📍 Evolution 2 Megève
thefirstm
I chose the dog sled to experience it, it wasn't an hour, but you can tell it's a nice tour to experience and try, they took you on a different path, but in one area, try it once in your life.
Manuel G
Wonderful time spent. Wonderful time this morning!! great welcome from Luc in his tipi!!! many thanks to Justine for the presentation of the huskies and this great ride in the sun!!! very welcoming and professional team!!! see you next year and big kisses to YOUYOU !!!!
Lau Lau
Superb dog sledding with Luc it was a magical moment
Fanny Novakoff
We had a great time with Luc and his team. The welcome is perfect, the walk great. Go there with your eyes closed, well not too much anyway, the ride is worth it! Big up to all the dogs (Gâchette, Laiko, Pedro, etc) and special mention to Tokyo, Timour
Thanks for this moment and see you next year 😉
Anna Le Port
Superb dog sled ride!
A warm and friendly welcome. A lovely team, passionate about their activity and their dogs. We recommend this activity. Thank you also for giving us the chance to drive the sled. Stars in our eyes.
Thank you to the team and their dogs.
We will come back.
On behalf of the Bretons.
Maewa Seeger
Great sled ride, the musher Luc was really nice and he explained well. The dogs are adorable and we see a real passion and complicity between him and his loulous. I recommend 😁
H Farming
A little disappointed, 20 minutes of dog sledding, half of which was at a standstill
Fast for 190€.
We expected a better quality activity.
Marion
Due to the lack of snow, the activity had finally been cancelled a few days before our arrival. What a nice surprise when we finally arrived in the area, the phone rang and we were told that they had found a spot for sled dogs. Very good time spent in the company of the adorable doggies and the very pleasant staff who provided us with lots of explanations. We recommended you to many people who were leaving during the February vacations! We will come back to take activities with you for sure!
H farming
A little disappointed, 20 minutes of dog sledding, half of which was at a standstill
Fast for 190€.
We expected a better quality activity.
Aurelia L.
Family outing of 3h with 2 guides as friendly as pro and reassuring, valuable advice, tourist info to decorate the sublime landscapes... and electric mountain bikes at the top to replace the effort with the pleasure of the ride. I highly recommend!

- 📍 Evolution 2 Megève
Marirena Georga
My ski instructor Martina was excellent, very nice person and made my ski lesson one of my best experiences!!!
Caroline
Great 👍 Martina is a caring professional always in a good mood

All our activites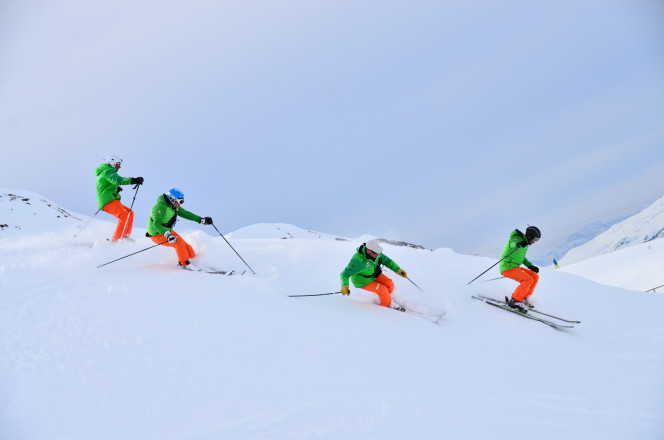 SKI SCHOOL / GUIDE HOUSE
A structure on a human scale, tailor-made services!
A team of instructors / guides that meet your expectations:
All French State graduates
Teaching possible in French, English, Russian or Spanish.
In-depth knowledge of the ski areas and the resort
Teaching mobility in Megève, Combloux, Saint Gervais, and during the day only Les Contamines, Chamonix, Les saisies
A service that meets your requirements
• Groups limited to 6 people maximum per instructor
• A possibility of transfer from your place of residence to the place of practice in an 8-seater van on request and on estimate
• A certificate of level and a medal ceremony at the end of the week for children
• The loan of safety equipment (ARVA, shovel, probe) in the event of off-piste lessons