Level
Beginner, Intermediate
Discovering Dog sledding
Would you like to experience an extraordinary activity filled with fun whilst being in the middle of nature? Get pulled around by our sled dogs accompanied by our professional mushers!

Evolution 2 Chamonix offers two formats: learn how to drive a sled or let yourself be guided with our professionals who will lead you the way. Whatever your choice, it's always a lot of fun!
Details on the dog sledding activity
- Duration: about 1 hour (15 min briefing then a ride of 20-30 min)
- Session times: 9:30 a.m. - 10:15 a.m. / 1:30 p.m. - 2:15 p.m.
- Meeting place: Chamonix Golf Course if the snow conditions are good. Otherwise, the meeting will be at La Vormaine in Le Tour.

- Option 1: INTRODUCTION TO SLEDDING
After a briefing where you will meet your team dogs, you will be at the head of your own sled.

- Age : 8 years old and above
- Number of participants: 6 people
- Price: 95 € / person

For people who cannot take the reins (children between 3 and 8 years old, elderly people...) you can also do this activity while sitting in the musher's sled.
- Option 2 : PASSENGER SLEDGE

After a short briefing, you will be seated in the sled of the professional musher (it is not possible to be seated in a sled driven by a person other than the professional).
In this sled, we can put 1 or 2 people, but be careful, the total weight must not exceed 75kg!
Only one sled is available per hour.

- Age : 3 years old minimum
- Price: €110 for 1 or 2 people
Rates
| Chosen option | Rates |
| --- | --- |
| Driver sledge | 95 € / person |
| Passenger sledge - 75kg max | 110 € / sledge |
Meeting point
Passenger in dog sledging
Golf car park
Situated in Les Praz village of Chamonix, go to the last car park (go past the entrance to Hôtel «Le Labrador» and continue a few more meters)
Driver dog sledging
Golf car park
Situated in Les Praz village of Chamonix, go to the last car park (go past the entrance to Hôtel «Le Labrador» and continue a few more meters)
To remember
What to bring
- Ski clothes or warm clothes
- Snow boots
- Gloves, warm beanie, sunglasses
Cancellation conditions
Please consult our General Conditions of Sale to find out about our cancellation policy.


Insurance: Insurance is strongly recommended. There are 2 types of individual insurance to which you can subscribe when finalising your reservation (or in our offices).
1. Cancellation:
- This insurance covers you in the event of illness or accident preventing you from participating in your sporting activity (this must be certified by a doctor).
- All COVID related causes are excluded.
2. Assurski in case of an accident:
- Assurski covers you for up to €25,000 for rescue costs in the event of a skiing accident (including off-piste) and all other snow sports.
- No advance payment required for rescue services, including medical repatriation.
- Lift pass refunded up to the value of 200€
- Ski lessons refunded up to the value of 400€

Reviews from our customers
Jill
As there was insufficient snow on Chamonix golf course, the event was moved to La Tour where there was plenty of snow.
The dogs were amazing, and I loved my short sledge up and down the field. The initial instruction was mostly in French, and my French is not very good, and their English was limited. However we managed with a bit of both languages and demonstration. I was able to get the dogs and sledge to stop and start. We followed the lead sledge, and he kept an eye on the other sledges. I would love to do,it again, but live too fa away!
It was physically harder than I thought, but I enjoyed that.
Jill Spanton
I had a wonderful dog sledging experience at Le Tour … an amazing experience I really loved it. Highlight of my holiday.
Kate
Me and my friend booked a dog sledding experience as passengers. It took place on a golf course in Les Praz....10 minutes from Chamonix centre, but you felt like you were in the wilderness, surrounded by trees and magnificent views of Mont Blanc. The entire experience was breathtaking. I loved every minute of it, especially spending time fussing the dogs.
Thanks again Evolution2. I will most definitely be returning very very soon!
Stéphane
Hello everyone,
We have just returned from a stay in Chamonix and we were lucky enough to be able to do the dog sledding activity, we were introduced to driving sled dogs and strolled by a team of huskies to discover the magnificent valley of Chamonix. . It's a great experience, I recommend without hesitation.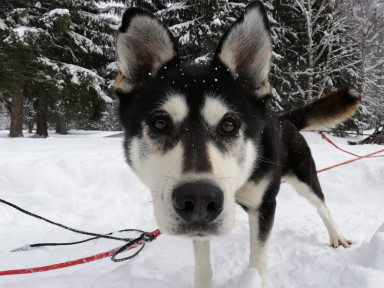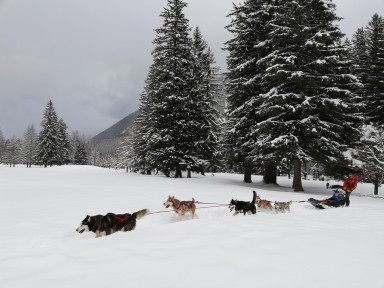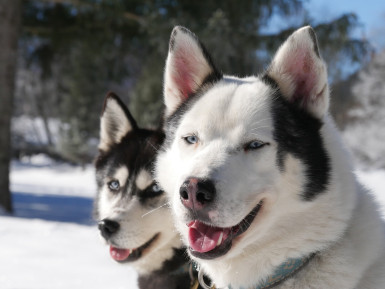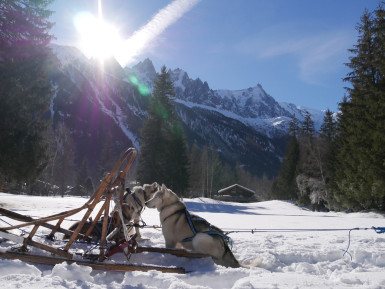 Book
Easy booking
Secure payment