Magic is in the air !
LIVE A UNIQUE EXPERIENCE 🐶
BOOKING ONLINE OPEN
Experience a moment of sharing with a passionate musher, who will tell you some of his secrets... A magical experience that will take you on a journey through the countryside in the company of our huskies 🌟
For children and adults alike, take advantage of one of Megève's most beautiful walks to admire the Haute-Savoie countryside. First you'll meet the huskies to get to know them by their nicknames, then you'll set off for a timeless ride along the Golf du Mont d'Arbois.
2 possibilities to complete a sleigh :
1 or 2 participants
Or 2 participants + 1 child under 10 years old
Activity started from 2 years old
Schedule:
Morning: 9.30 am/ 10.30 am / 11.30 am
Afternoon: 1.30 pm / 2.30 pm
For three-person sledges, please leave "1 participant" off the number of people. At the bottom of the booking box, you will find the option "from 3 participants". You can then select one to book the right sleigh.
Park your car at the 373 chemin des Follières 74120 Megève and walk 10 mins from there.
Step 1: Park in the outdoor parking lot below the Four Seasons. Look for the first sign (with a red stake) at the bottom of the parking lot.
CAUTION: DO NOT PARK IN THE PRIVATE PARKING OF THE FOUR SEASONS
Step 2: Follow this sign to the second one, which is at the wooden children's hut.
Step 3: Walk for about 10 minutes while continuing to follow the signs!
Step 4: Join the trapper's camp (tepee with wooden dog statue) to start the activity
Important
Maximum weight 170kg / sled
A hot beverage offered
PLEASE ARRIVE 15 MINUTES BEFORE THE BEGINNING OF YOUR ACTIVITY
In the same place, you can do electric snowmobile.
Our prices (non-contractual)
| OPTIONS (30mins of activity) | PRICES |
| --- | --- |
| 1 or 2 people (The age doesn't matter) | from 200€ |
| 2 people and 1 child from 2 to 10 years old | from 240€ |
Meeting place
Dog sledding
Dog sledding
Arrive 10 minutes before the start of the activity
Keep in mind
Participation terms
From 2 years old
Not for pregnant women
Equipment
Warm clothes, gloves, hat, waterproof warm shoes

Anna Le Port
Superb dog sled ride!
A warm and friendly welcome. A lovely team, passionate about their activity and their dogs. We recommend this activity. Thank you also for giving us the chance to drive the sled. Stars in our eyes.
Thank you to the team and their dogs.
We will come back.
On behalf of the Bretons.
Fanny Novakoff
We had a great time with Luc and his team. The welcome is perfect, the walk great. Go there with your eyes closed, well not too much anyway, the ride is worth it! Big up to all the dogs (Gâchette, Laiko, Pedro, etc) and special mention to Tokyo, Timour
Thanks for this moment and see you next year 😉
H farming
A little disappointed, 20 minutes of dog sledding, half of which was at a standstill
Fast for 190€.
We expected a better quality activity.
H Farming
A little disappointed, 20 minutes of dog sledding, half of which was at a standstill
Fast for 190€.
We expected a better quality activity.
Lau Lau
Superb dog sledding with Luc it was a magical moment
Maewa Seeger
Great sled ride, the musher Luc was really nice and he explained well. The dogs are adorable and we see a real passion and complicity between him and his loulous. I recommend 😁
Manuel G
Wonderful time spent. Wonderful time this morning!! great welcome from Luc in his tipi!!! many thanks to Justine for the presentation of the huskies and this great ride in the sun!!! very welcoming and professional team!!! see you next year and big kisses to YOUYOU !!!!
Marion
Due to the lack of snow, the activity had finally been cancelled a few days before our arrival. What a nice surprise when we finally arrived in the area, the phone rang and we were told that they had found a spot for sled dogs. Very good time spent in the company of the adorable doggies and the very pleasant staff who provided us with lots of explanations. We recommended you to many people who were leaving during the February vacations! We will come back to take activities with you for sure!
thefirstm
I chose the dog sled to experience it, it wasn't an hour, but you can tell it's a nice tour to experience and try, they took you on a different path, but in one area, try it once in your life.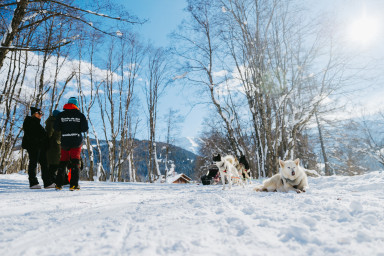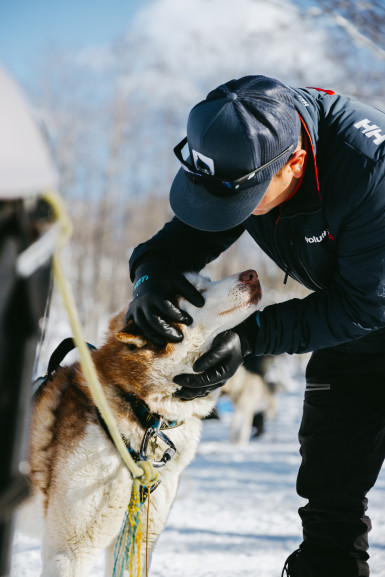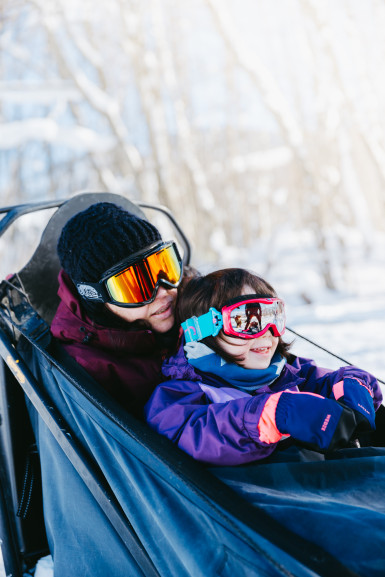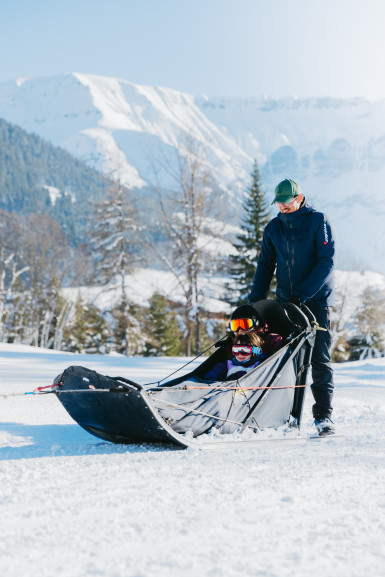 The nature, your desires, our experts !
In a magnificient mountain landscape, let the nature comes to you for a unique sport moment in the Alps.
We help you to choose your activity so you can live a memorable moment with your family or your friends. We rather be an expert or a beginner, we adapt our sport activty to your wishes.
All our guides are professionals in their sport domain. They are pedagogical experts and sport lovers.
You rather be with your family,your friends, your lover or your colleague we can find an activity that suit your desire.
You rather stay for the week-end, a short or a long stay, for a bachelor party, a seminar or a team building, we can help you live a unforgettable moment.
Book
Easy booking
Secure payment