No result found, try boardening your query.

They lived the experience
Jules & Tanguy
Wild Nest Tignes : Quelle expérience hors du commun !

Wild Nest Tignes : Quelle expérience hors du commun !

Merci à Douglas et à toute son équipe de nous avoir permis de vivre cette expérience. On recommande vivement le "ice-floating" pour faire de cette aventure un moment inoubliable ! Milles merci et à très vite

-📍 Evolution 2 Tignes
Frédéric Jung
A top ski school for kids!! They are friendly, dynamic and really motivated by what they do (*special kudos to Nathalie for the kids of the club*). Small groups to really learn individually,... here is not the factory. We return there with pleasure since we discovered this alternative. I recommend to parents who do not know yet!

-📍 Evolution 2 Tignes
CHARTREUSE 147
Superb diving under the ice of the lake of tignes, magnificent experience, super friendly and very professional instructors, thanks again to laeticia for this moment spent under the ice with serenity 👍✌

-📍 Evolution 2 Tignes
Cathy Gillard
Great week of class with Nathalie the mouse. Hyper qualitative courses, atmosphere at the top, our son really enjoyed himself and made great progress because to a top instructor. Thanks to Elle and all the super friendly team. Unlike the ESF where 5-year-old children stay in the "kindergarten" all week, here on the 3rd day, he was on the slopes, already knew how to take the ski lift and go down pretty blue slopes. Top!! To advise really.

-📍 Evolution 2 Tignes
Emilie Cayla
My two daughters (3 and 5 years old) took classes with Evolution 2 during the school holidays. The animation team was adorable, the groups are perfectly adapted and the children are delighted to return every morning. Thank you:-)

-📍 Evolution 2 Tignes
Marion Déplechin
We have reserved children's classes for 1 week (Yetison) + 1 dog sleigh session. Booking problem via the website but very good contact and efficient via email.
The ski instructor was really great for our 4 and a half year old. This is the first year she smiles every day.
The sled dog was really great for an activity with children.

-📍 Evolution 2 Tignes
A Penas
A very pleasant week for our 2 children! Snowboard instructors at the top, constructive debriefs and a great progression for each of our loulous. A Top team! Thanks to Camille, Cyril and Jeremy!

-📍 Evolution 2 Tignes
Loic
We did the Camp Trapper activity .

The reception is perfect and especially the tobogganing descent at night was genial.
I recommend this activity to spend an unforgettable time.

-📍 Evolution 2 Tignes
Marion Déplechin
We have reserved children's classes for 1 week (Yetison) + 1 dog sleigh session. Booking problem via the website but very good contact and efficient via email.
The ski instructor was really great for our 4 and a half year old. This is the first year she smiles every day.
The sled dog was really great for an activity with children.

-📍 Evolution 2 Tignes
Loic Le Bris
First ice diving experience. You have to try. It's quite special.
Friendly and professional team.

-📍 Evolution 2 Tignes
Yohan Debauque
Super sled dog outing yesterday with Marie. Many thanks to her for all the explanations. Have a good end of season to you!

-📍 Evolution 2 Tignes
Nath & Chris
An impressive list of activities, an excellent welcome, and a novelty this year: the moonbike to try absolutely. It was awesome.

-📍 Evolution 2 Tignes
Marion S
Great organization! Great team!
Anouck and Chloé at the reception know perfectly we oriented towards activities adapted to our requests!
The Moonbike session with Romain was great!
See you soon!!

-📍 Evolution 2 Tignes
Kevin Pascal
Trapper camp activity, meal in a yurt + toboggan ride.
Exceptional experience, we spent a totally different and rejuvenating moment in the heart of this trapper's camp. The yurt in which we enjoyed the fondue was spacious and the candlelight atmosphere made the moment magical.

After this good meal, we went down on a sledge for 3km at night where we really had fun!

The value for money is really incredible compared to some restaurants in the resort, I highly recommend
Elizabeth
Great instructor (Tristou), with just the right number of people in our group (5 + instructor). Evolution 2 did not allow our group to get too big. The instructor was very knowledgeable, friendly, encouraging and really improved my skiing - went from green to blue to red! Thank you so much!!!
Lucy
Bonjour, je voulais juste dire un grand merci à Claude pour nos fantastiques leçons de la semaine dernière. C'est un moniteur brillant et il nous a vraiment aidé à tirer le meilleur parti de nos vacances. Je suis retombée amoureuse du ski. Je vous remercie.
Camille CD
Breathtaking snowshoe hikes with Nicolas, Delphine and Francois! Beautiful places, captivating explanations of the flora and fauna, all in a super friendly atmosphere. Thanks for a great time 🤩
Adrien Meuric
We did a Bike Park initiation with Celine and it was just great!
Patrick Gougeon
My 3 children were taking lessons with evolution 2 this week: 2 in snowboarding and 1 in skiing. It was my first time with this organization. I'm impressed by the quality of the lessons and the children's progress. My children have taken plenty of courses in previous years, but this time they've taken it to the next level. It's a far cry from the ESF's day-care classes. Individual follow-up with feedback, lots of technical advice and teachers who are really at the top of their game in terms of pedagogy and technical level. What's more, mini-bus pick-up from the residence... Évolution 2 is now my favorite school. Thanks to the teachers!
Marc Jolibois
I recommend Jeremy Chaumet for Snow. Our son has developed rapidly with him. He's a professional and a great teacher. He also makes great souvenir videos.
Our son started three years ago and he's been on every piste and knows all the snowboarding terms. Thanks to you Jeremy change nothing 🏂❄️⭐️⭐️⭐️⭐️⭐️
Audrey
We went on two snowshoe outings with two golden guides, Delphine and her dog. The outings are really top-notch. The value for money is perfect.
We also went on a dog sledding trip, which was incredible! The musher really explained his job and the important relationship with the dogs.
Finally, we went snowtubing. In short, thanks to Évolution for people who don't ski, we had a memorable vacation.
Craig Watson
Just back from a week in Tignes. I had a week with Cami on the red/black group, whilst my wife was with Andi in the green group. Both instructors were absolutely outstanding. I saw real improvement, having never had a full weeks instruction before. Cami pushed me to my limit, whilst making sure I always new I was in capable hands. In the green group, my wife's improvement was obvious as her confidence grew. No question that I would book Evolution 2 again, next time I am in Tignes.
Coco Raulin
I discovered some superb snowshoeing with Jean Louis and Delphine!
A big thank you to them for their competence and the human relationship they establish !!!!
I can only advise skiers to put on snowshoes for even one day to go and meet a magnificent nature!!!!
Bravo 🤩
Tiphaine ECHKENAZI
Our 2 children have been taking afternoon group ski lessons with Evolution 2 for 4 years. The instructors are great. They make them feel confident. The lessons are really adapted to the small number of children. They eat there at lunchtime and are very happy.
Julie Marsaud
Half-day snowshoe hike, top-notch supervision, small group, great atmosphere and lots of interesting information! Thanks to the guide for the nature outing and his explanations, you can feel his passion and desire to share. Great price/performance ratio, very easy to book, good advice from the team both before and during the outing. Thank you, it was great!
Sébastien Roure
A 5 star review without hesitation...my 3 year old nephew had the chance to make his debut at Christmas with evolution 2 de tignes le lac...a very small group of children...a special mention for Tristan and Raphaël it seems...in addition to having given him a taste for skiing...this experience had positive repercussions on his development at school and his rugby club when he returned from the vacations...I highly recommend.... thanks for him..
Baligh Ferjani
Super ski school at Tignes 1800, great supervision, number of children limited to 8 unlike the ESF so our son was in a group of 4, extra to progress! Teacher Andy was just great, very kind! Every afternoon, the kids had breaks with grenadine or hot chocolate, so they were delighted to go to class!
Domitille Portier
A superb experience for our 2.5 year old son during the husky course.
Wonderful teachers, with a special mention for "Chocolat" who was exceptional during the course, and who helped make this first introduction to skiing brilliant!!!!
Thank you for your kindness and guidance, we'll be back with pleasure and confidence!
Happy end of season
Domitille, Geoffroy and Timothee !
Sybille Blat
Great experience with the whole evolution 2 team, special thanks to Laetitia at reception who gave us all the information we needed for our activities with professionalism and good humor.
See you soon, I'll be back.
Mathilde Hasbroucq
superb snowshoe hike with Nico the very experienced and friendly guide, we've been hiking with him for two years now and we recommend him +++.
Karima Benyoub Da Silva
Many thanks to the whole team for the quality of their welcome and the activities on offer! Special mention to Tristan, who accompanied our 11-year-old daughter on the slopes for private lessons! She made enormous progress and, above all, has unforgettable memories with photos and videos! A big thank you also to Jean Louis who accompanied us on a snowshoeing trip with breathtaking scenery! We'll be back next year!

Discover all our activities in Tignes
Our schools in Tignes
Tignes-le-lac
Open daily from 9am to 6:30pm until September 3, 2023!
+33 (0)4 85 58 08 50
Tignes-le-lac
Semper Vivens, Prom. du Tovière, 73320 Tignes
Open daily from 9am to 6:30pm until September 3, 2023!
Tignes Val Claret
Immeuble Le Sefcotel, 73320 Tignes
Temporarily closed.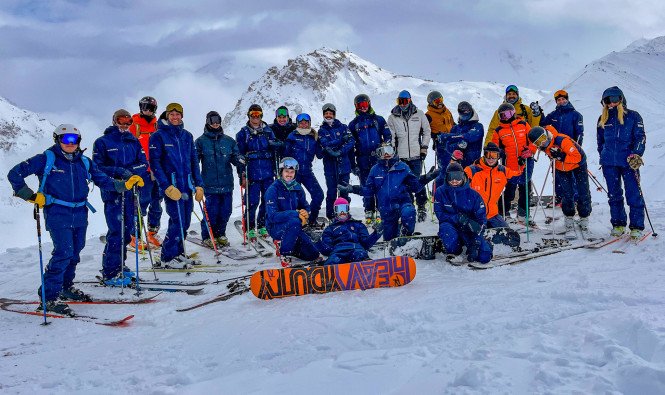 The team
Launched in 1987, Evolution 2 Tignes is the origin of the Evolution 2 adventure. Our team now has around fifty instructors and many other specialist outdoor professionals.
All our instructors speak French and English (and some, other languages too!).
Our team is professional, dynamic and full of experience, with many instructors living year round in, or near to, Tignes.
Whatever your goals, we will share with you our passion, our enthusiasm and our knowledge of the area.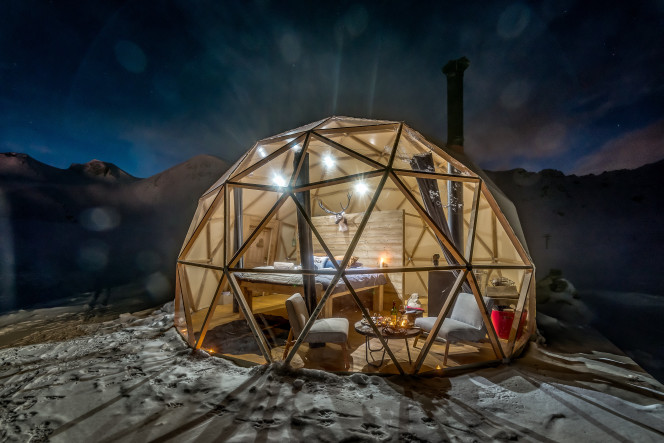 A privileged service
Do you have a special occasion in mind and wish to make it unforgettable ?
Thanks to our extensive knowledge of Tignes and all its possibilities and activities, we can assist you.
A birthday to celebrate ?
A hen or stag party to organise ?
A marriage proposal to perform ?
A corporate seminar to coordinate ?
For any of these occasions, and more, we can often organise and always advise you.
Do not hesitate to ask us for our expertise !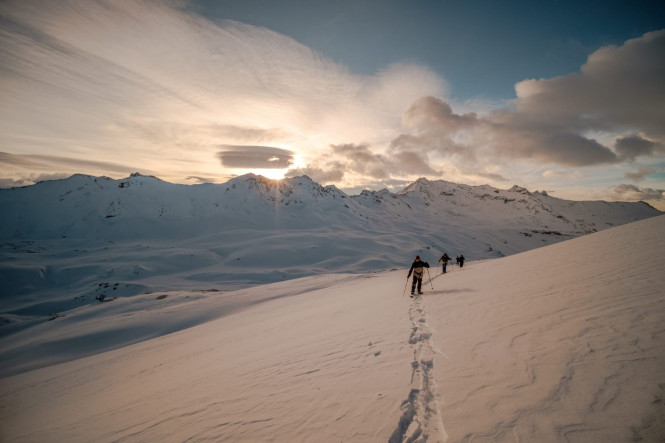 Our partners
Find our partners to choose your ski & snowboard equipment, your accommodation, your transport ...
Information request
Our team is at your disposal to answer all your questions.
Evolution 2 The Ski and Outdoor Activities Specialist
Having followed the most rigorous and well respected training courses, our state qualified instructors desire is to pass on knowledge and share our adventure projects with you. Always respecting our philosophy: the requirement for excellence! Whether it's for a ski lesson, a parachute jump or a mountain bike descent, come and live an unforgettable experience with our outdoor specialists!