Ski school Evolution 2 Val Thorens

Amelie FERON
Kindness
Professionalism in all aspects
I highly recommend !
Nelly KANT
Great Mountain School!
Great week last winter, small groups for our children at the ski school and lots of fun activities: dog sledding and diving under the ice!
Thank you Evolution 2 :)
Charles COUPE
A huge thank you to the entire Evolution 2 Val Thorens team!
Florent and Virginie were present and available to organize a week of activities which were all of very high quality. Difficult to ski due to the current situation, but we were able to experience some great activities: ice climbing, hiking, ice snorkeling, mountain biking on snow, freestyle snowboard lessons, etc. It was great !
Thanks to Julien, Elie, Dan, Valérie and the whole team!
Elsa LAVIRON
Friday family outing with Virginie who was really on top to accompany us safely, and to supervise my 2 very little girls (3 and 5 years old) as well as my mom and me! Unforgettable afternoon! Thanks again to Valentin and Virginie. I hope the message will reach them! You are super!! 👌👍💪💪🥇🎿
Hannah Cottam
Our 10 and 13 year old children had an amazing time with the team at Evolution 2 in Val Thorens. Despite the fact that they hadn't really skied much before, the team had them jumping, skiing backwards, in the powder off the sides of the pistes within days - Valerie and Jeoff were truly fab, and the other kids were just great as well. 10 out of 10!
Samuel BARBER
Skied two days in the last week with Edison and cannot recommend him highly enough. I have skied all around the world and he is one of the best guides/instructors I've ever had. Thank you Edison.
Emily CULLEN
We had a wonderful experience with our guide, Edison during our stay in Val Thorens. He took us all over the mountain and despite us all having different skiiing abilities, Edison taught us all a lot of new techniques. I had recently broken my tibia and he ensured I was safe and helped me overcome my fear of falling again. Thank you so much!
Astrid LUCAS
We took private ski lessons and were very happy! Our teacher Sebastien was very patient, fun and adapted our lessons to our level and mood. Highly recommend it!
Nathan
Purchased 4x 3hr morning ski schools for my beginner friends who were able to ski on blue runs by the end of the week. They were very happy with Valerie, their instructor.
Shaina
Attentive, patient and entertaining. Our instructor made sure to keep the lesson motivating and light- we had a great time!
Gemma
We were so impressed with the patience and professionalism our instructor Roma showed. We had private lessons for our family of 3 and he brought our skills along very quickly over the 2 half days, giving us confidence to make the most out of our holiday. We thoroughly enjoyed and would definitely recommend. Thank you!
Ben
Fantastic as a guide and gave confidence by leading. Limited lesson/development but could be mainly due to language barrier.
Louise
I was ill on day one and although I could have snowed the ski school said we could opt for 1:2 lessons for 4 days starting the next day. This worked perfect for us and Sebastian was an excellent instructor.
Ellie
Great experience, our little girl excelled during her week with E2, we were really impressed. The instructor also spoke perfect English.
Katie
Sebastian and Geoff were fantastic at Evolution 2, children had a great time. They were kind and funny. Thank you for a great week
Ingrid
Friendly efficient approach. Errors are quickly identified, exercises have immediate results.
Barry
Edison was very attentive. The lessons were well structured and tailored to the needs of each participant.
EVOLUTION 2 VAL THORENS OFFICE
Saturday 10.30-7.30 / Sunday 8.30-7.30 / Monday to Friday 8.30-1.00 and 3.00-7.30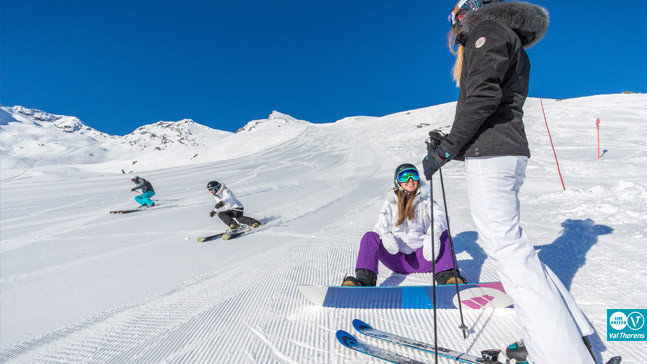 Kids ski / snowboard stages
Your children deserve the best ski lessons to improve quickly. Evolution 2 Val Thorens will give you all the keys to pass at the upper level. Amusement and progress will be there. All our instructors are formed to pass on the skills, and put your children in the best conditions with our certificates instructors (BEES alpine ski)
A clear, simply, custom service for a green and fun approach of skiing
Evolution 2 ski school is engaged, before, during and after the ski or snowboard stage
On the fisrt day, the meeting point is at the bottom of "Les Pionniers" chairfilt , in a very accessful place in Val Thorens. At the rigt timing your instructor will wait for you to start the stage
Don't forget the ski pass, sun cream, and your equipment, also your kid must wear the helmet during all the ski and snowboard stages
We limited the stage to 8 kids per instructor, it really help to give them all private tips. To be sure every one is in the right level we do a check on the first day. From the winter 20 - 21 we added in our stages a more reponsible content
On the last day, your kid will receive the medails which correspond to his ski or snowboard level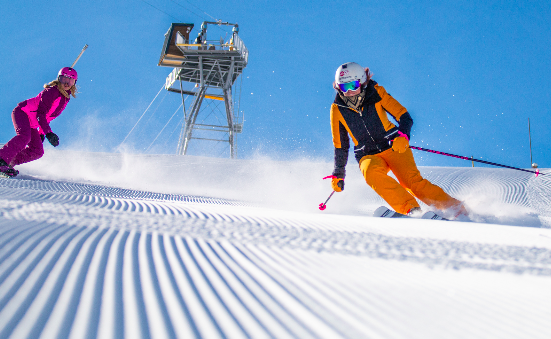 Private lessons
If you want to progress more quickly skiing, the private lessons are the most interesting. For the children or the adults, ski lessons are specially shaped around your objectives. The ski instructor will propose you a personalized program. Progression of your ski level will increase significantly.
For a wonderful time with us in Val Thorens, either you are alone, in couple, or a family, choose what to improve, ski, snowboard, off-pistes, hicking, snowshoes...
Choose your instructor and come to ride in the beautiful 3 Vallées area, the largest in the world. Our privates lessons are flexible regarding what you want and need, we customize your choices. From an hour for ski and snowboard lessons, to full day, full week lessons ask us to suit you the best package !
WE CAN HELP YOU
If you still need help from one of our team members, please submit a request here, or by phone at this number + 33 6 13 76 78 74
Evolution 2 Ski School
Evolution 2 ski and snowboard school since more than 30 years. In Val Thorens in the heart of the 3 Vallées ski area, our certificates ski and snowboard instructors, will show you all the secrets spots of this beautiful ski resort