Adeline M
We did the great rafting descent on the Isère with Alexis, our guide. Super nice and very competent! He answered all our questions and made us discover the surroundings of Landry.
I recommend Evo2, they are super pro!
Aglaé
Superb rafting descent. We had an extraordinary family time! Great sensations!
A GREAT EXPERIENCE!!
Ps: well favored by a very good guide = Vincent is the best guide in the world 😉
Alexandra
Thanks Rico! We really laughed!
Rico also took our request into account when he was told that one of our teammates was afraid of the water.
Very pro! Very fun!
Aude
It is with some reluctance (not to say a real fear ...) that I embarked with my two daughters 19 and 12 years old in this descent on the Isère in rafting yesterday with Evolution2. Alex who guided us and kindly rescued me after an unexpected fall, manages his passengers wonderfully, with humor and kindness, the landscape is beautiful and despite the cold water and the cold outside temperature too, we had a great time, rich in emotions, sharing, laughter and discovery.
Great welcome, very good support, bravo!
Aurore
Great time spent between father and son. for a first approach to rafting for my 8 year old son, was genial
His only regret is that it happened so quickly. thank you
Benj
Great place for activities, we did a great HVS.... picnic tables shaded with or without catering service, top staff with superb atmosphere of monitors, activities and quality equipment. Their cottages are great and not far from the place of activities. The whole group loved this place and highly recommend it.
Cedric
A team of shock listens to your desires to live beautiful adventures
Rafting at the top with a beautiful experience, mountain bike outing for the discovery of beautiful landscapes
An extra paragliding service and what to say about hydrospeed...
All of course associated with a magical welcome and throat of smiles
Cetelmed
Family rafting at the top! First great experience for the whole family. Super general organization and super ML guide that we highly recommend!!! We will come back to try other activities with great pleasure.
Christelle
Rafting discovery simply genial. We live in the United States, and have already rafted several times with our 9 and 10 kids and Evolution2 is far more awesome. We loved it. It's not boring for a second, Romane was great, the stops to jump in the water super nice, the fabulous place.
Cindaille
We had a great time for a 2h30 descent in rafting with ML, guide at the top that makes the descent very playful with good sensations! We recommend ML!!!! Thanks to him!!!
Claire . B
Super happy with my first Rafting experience, shock team and super well supervised 🌊🛶☀️

📍Evolution 2 Thonon - Lac Léman
Coutard G
Superb rafting experience with a beautiful landscape and super nice water with quiet parts and some nice fast with passage in gorges. We had taken the longest circuit of about 15kms.
Special kudos to our guide ML, a super nice guy and filled with good humor.
Cristelle V
Made with our two 9-year-old daughters, the whole family to adore the big and small.
A great site super guide Mario,
Thanks Evo2 and Mario great memories for us
Daniel
Fabulous experience made with my 3 sons, Thanks to Hugo, his pedagogy, his good humor, and his professionalism.
It was great, I advise anyone who wants adrenaline with safety.
Daniel, Lino, Garris and Arsène
Daniel
Mini rafting session with martial excellent good luck to you awesome
Dany
A great experience where sensations rhyme with safety
Dany
A great experience where sensations and safety go hand in hand
Dany
A great experience where sensations and safety go hand in hand
David G
Family rafting (couple with a 16 years old teenager and a 12 years old girl) at the top, very well supervised and perfectly secure.
Pure pleasure in a river that provides real sensations.
Super structure (shower, changing rooms, toilet, restaurant) with smiling and pleasant staff.
A special mention for Vincent and Victor who are two great guides, friendly, funny and who know the place and their job perfectly.
If you want to have a good time with an exceptional activity, I highly recommend Evolution 2.
Delphine
We booked the classic descent with evolution 2: very good experience: the course, the guide and the organization. I especially recommend Theo as an instructor, he knows how to pass on his passion!
Elise T
Experience canyoning and rafting at the top
Big family, want to do sports activities during our summer holidays, so here we are at Evolution 2 to book a canyoning outing and a rafting outing (at reasonable prices)!

Both sessions were absolutely awesome!
A rather arduous canyoning course for beginners but the guide was very encouraging and had a lot of humor. So we feel good, we jump, we glide, we dive, we pass safely!
The same goes for rafting. We have chosen the rodeo route that is suitable even for beginners. Here again, we are well accompanied by a guide who is attentive and who strives to make the experience pleasant.

Great team, great moments!
Eric
Good experience in Rafing on the Doron de Bozel and in Canyon (red water)
Competent, caring and fun companions.
A well-run organization of Tel's command taking until the end of the activity.
Evelyne
e took a rafting descent of 2:15/30 on the Isère. Mega awesome and super well organized! The base in Landry is very nice, clean, equipped with showers and cabins to change. Also possibility to eat. We received complete equipment from head to toe, the safety instructions were very clear and our Evolution2 Hervé was at the top. At no time did we feel insecure. Yet we were able to experience great sensations including the possibility for those who wish to jump more than 5m high in the Isere (no obligation). A unique experience that we will repeat during our next stay in Les Arcs.
François
We have just made the full descent of the Isère in rafting. It was an excellent afternoon, 2 good hours of descent. The children loved us too. And we had a top guide, thanks to ML for making us live his passion, so British.
GarchambO
feet in the water
Very nice rafting experience with our 2 children of 10 and 14 years.
Top management… thank you Rémi
Nice atmosphere in the structure
The place is very well arranged with optimal organization.
Many activities on offer. Dining area on site.
Do and Do
Hugo
We made the full descent of Isère in rafting. The guide (Rico) was super friendly, affordable and giving very interesting explanations. I highly recommend this activity
Illy
We've been through the Doron.
Pleasant and technical.
Nature in its raw state.
A bit short.40 minutes of descent.
Jade
Rafting on the family discovery trail (with 2 children aged 10 and 14). There were 7 of us on the boat.
Very well supervised, very nice instructor (Olivier Dutt) who made us discover the pleasure of this sport and the charm of Isère.
The children (like the parents) appreciated the eddies of the torrent, and the "shocks" on the traps of the course.
No difficulty, accessible to beginners on this discovery course. The complete equipment provided by the club makes it possible not to get cold in the water (because possibility to swim on some quieter passages).
Kokiyage
an organization at the top in a beautiful place. A smiling team, with care for all. Very professional team and a perfect instructor! Thanks to the whole team!
Three-hour descent for my little girl, for whom it was the first time! she loved it!
To perfect everything, a good small restaurant, on site, where we ate well with a very pleasant service!
To redo, during our next stay!
Laurent
Very good course with some quick to negotiate well. Our guide Olivier did his job well and throughout the course we were well informed. This descent is absolutely necessary!
Lnaya
A very good family experience, we did the rafting descent of 2h30. The staff was very nice and very pleasant. We had to put on full suits (short sleeve suit + long sleeve vest + water shoes) We had lifejackets and helmets and the descent was very nice, there were quiet moments and other more sporting moments. The rapids were fun but we expected more. I recommend to give it his time as it was very fun and family
Lo B
To do absolutely! Our guide Mario is great! Experienced he put us at ease immediately and allowed us to pass the difficulties calmly and with humor! Thank you!
Marie-Claude
Very friendly team, but the rafting descent was too short, duration of the descent 1/2 hour at most.
Martin
well back in anjou, really loved the raftiing, with rico on Saturday, August 19

Dad not knowing how to swim or not at all that I did not know, stayed in the shade next to the ping pong table, and is not bored, it was a beautiful day the last of our vacation.

we will return and this time the hydrospeed , before being too old for all these sports activities.

there is a great atmosphere at home , and nice facilities , clean , well organized, your employees are really nice.
Mathilde
We booked a rafting session for the same day and came away smiling from ear to ear.
William's welcome, team, equipment + professionalism, explanations and humour were top notch. We felt safe from the start and had a great time.
Thank you so much!
Mattmatou
BABRY RAFT
Super baby raft descent in family Thomas 6 years old, Tristan 9 years old accompanied by Hugo who put them in confidence. We recommend this center and of course Hugo thanks again to him for this excellent descent!
Michael
Magnificent Rafting Descent in Isère 🚣‍♀️
We had some great times!
Rich in emotion and strong feeling 💪🏻
But nothing would have been so beautiful without our instructor Mathieu who made us spend a 👌 moment. Good advice, very friendly, very educational and sociable, we loved it!👍🏻✌️
To do again.
Mika
What to say ? When you have young children (7-10 years old). The only ones to offer baby rafting. Result ? A treat for my daughters. Special dedication to Julien, our more than friendly instructor. A real cream, no apprehension with him. Very educational and patient. Thanks to him and the team
Musereau
Very good afternoon rafting with Theo, real sensations!
Very good atmosphere!
Redo
Nanoucamju
Rafting in family with our 2 daughters 10 and 13 years old + another family. Awesome ML accompanist, who made us do crazy stuff safely.
Super organization. Highly recommend
Nicolas R
Unforgettable rafting trip on the Doron de Bozel.
Exceptional setting.
Full of emotion.
Excellent monitor.
Nicole
Very well I recommend for small and big! And above all good very kind companion
! The water is a bit cold but its pass with the suits!
PeP
Great rafting outing with children in the Doron. Nice welcome, professional coaching. Third release with Evolution2, another great experience.
Philippe
Seminar of 50 people and it was high level! Day to top thank you
Philippe M
Lungo rafting course made on 08/21 with Romain (I think).

Superb descent in the company of the sacred guide! A mix of fun, culture and professionalism. The phenomenon knows how to embark its audience in its world.
Action, knowledge, security and kidding. A dynamic and refreshing descent.
Good stuff and good fun.

Thanks to the host team.

Philippe, Thomas, Anne-So and the hideous

📍Evolution 2 Thonon - Lac Léman
R.
We spent an unforgettable family moment rafting with the evolution team 2. We introduced rafting to 7-year-old Timéo and everyone was very caring.
Thank you.
We recommend this team

📍Evolution 2 Thonon - Lac Léman
Relax235376
A superb activity not to be missed.
My boys were happier.
Explanations and support at the TOP!!!
I let them go safely.
All equipment is provided.
Thank you
Rolland
A superb and pretty rafting descent with its lot of adventures.
The water is cool, it's nice with the combi.
The very active phases alternate well with calmer moments, the time to enjoy a little of the nature that surrounds us.
Great guide, great moments: thank you Hervé.
Sarno64
We went there to book a rafting descent .... it was AWESOME. Super well organized and very friendly.
To be redone without hesitation.

- 📍 Evolution2 La Plagne Montchavin-Les Coches
Valentin
Great experience with Vincent in guide/mono on hydrospeed and rafting the next day 👌 A good combo playful and safe with valves every 15 seconds: we like, we recommend and we will come back 🤪
Thanks for the reviews of Snatch and FMJacket punchlines!!
Tchusss

Team Valentin, Bradé coupé & co
Véronique
Superb afternoon mini raft on the Arve. Audrey was very very nice. Really to recommend and especially to do !!!
The whole team is really great !!! Thank you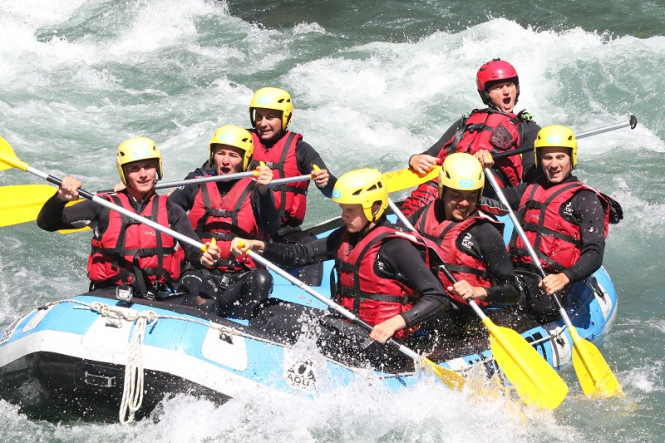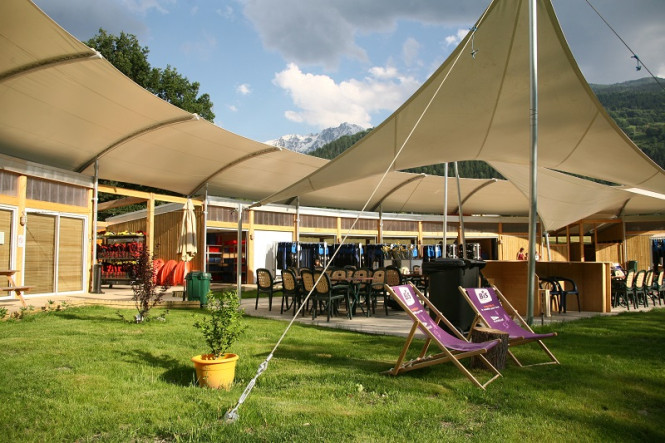 Plan your corporate event with Evolution 2
Reward holidays, seminars, conventions conferences, filming, team building incentives, themed evening : our 650 professionals are available to help create your perfect corporate event all year round - by the sea, in the mountains, across France and beyond !
View our corporate events offers
Level guide
Select an activity and find the right level !
Select an activity
Level
Son profil
Le stage qu'il lui faut...
Beginner
For toddlers (under 4 years old). He discovers the snow and slides it !
Beginner
For older children (from 4 years old). He discovered skiing !
Beginner
From 6 years or Baby Yeti acquired. He knows how to chain snowplough turns on low slopes, put on and take off.
Beginner
Small Yeti level acquired. He knows how to climb stairs, get up alone after a fall and masters the snowplow turn with parallel ski crossing on green slope.
Intermediate
Yeti level 1 acquired. He makes skid turns on an easy green and blue run.
Intermediate
Yeti 2 level acquired. He knows how to make parallel turns on a blue run, and cross hollows and bumps.
Intermediate
Yeti level 3 acquired. He masters parallel turns and sculling with poles on a red run.
Advanced
Acquired Super Yeti level. He masters bends on red and black runs. He wants to perfect his technique on red & black slopes, and discover off-piste skiing.
Advanced
Acquired Super Yeti level. He has already skied off-piste, and wishes to perfect the techniques adapted to off-piste skiing.
Advanced
Acquired Super Yeti level. He is comfortable off-piste and wishes to discover more technical routes.
Junior Academy 3, Grand Ski ou Teen Xtreme.
Level
Your profile
The course you need...
Beginner
You have never skied, or only a few hours, skiing is brand new. The objective of the week is to evolve in autonomy in snowplough turns on green slopes.
Beginner or "Learn to turn" courses
Intermediate
You have already done 1 to 2 weeks of skiing, you are going down the easy green and blue slopes. You are autonomous on the ski lifts.
Intermediate 1 / Class 1 / Level 1 or Perfect Parallel Green / Level Green
Intermediate
You have 2 to 4 weeks of skiing, you ski on blue slopes in parallel, you know how to skid, and pass on small movements of ground.
Intermediate 2 / Class 2 / Level 2, or Perfect Parallel Beu / Level Blue
Intermediate
You have been skiing for several years and are able to ski parallel on red slopes. You want to perfect your parallel turn in all terrain and ski safely on black slopes.
Class 3, or Perfect Parallel Red / Level Red
Advanced
You have a good level of skiing, on any type of terrain. You want to progress technically and discover off-piste and/or new techniques (carving, bumps, etc.).
Class 4, BLACK Level, Fine Skills or Off-Piste Courses
Level
Your profile
The training you need...
Beginner
I have never snowboarded.
Beginner or Rookie courses
Intermediate
I am autonomous with my snowboard and on the ski lifts. I want to learn how to chain turns on blue or red runs.
Intermediate courses, Improver 1 or Level 1
Intermediate
I master the turns on blue and red slopes, and I did my first jump/slide rotations. I want to improve the sequences of turns on any type of track, jumps and basic rotations.
Intermediate courses, Improver 2 or Level 2
Advanced
I master turns on red/black slopes, the Switch on steep slopes, and at ease off-piste. I want to deepen my tricks and learn to adapt my technique to all types of snow and slopes.
Confirmed/advanced/expert courses, Improver 3 or Switch